slide01

slide02

slide03

slide04

slide05

slide06

slide07

slide08
Harris Park is located on the South Fork of the Walla Walla River, about 14 miles southeast of Milton Freewater, Oregon. It is owned and operated by Umatilla County is used for overnight camping and has a day use area for picnickers and outdoor enthusiasts. The park is open from early spring to late fall, depending on the weather. It has many amenities that meet ADA requirements, and a large covered shelter that is rented for group functions. Reservations for camping are advised but not necessary, however calling ahead to make sure there are spaces available is advised. Call 541-938-5330 for information and reservations. Year round on site Managers live in a cabin on the west end of the park property.
In the 1920's the Rotary Club of Walla Walla developed the area for a Boy Scout camp. Early in 1950 most of the land was deeded to the County. As a result of the cooperation between the Rotary Club, Mrs. C.H. Harris, Harris Pine Mills, Mrs. Bessie Demaris and Umatilla County, Harris Park was developed as a recreational area.
The park is situated in a relatively narrow canyon bottom, with hillsides to the north and south of the river. The County road ends about 1/8 mile beyond the Gene Palmer Campground. The U.S. Department of Interior (BLM) manages the three-mile stretch of the south fork of the Walla Walla River that runs from Harris Park boundary to the Umatilla National Forest, west boundary. This land is designated an area of critical environmental concern (ACEC). The main management goal is protecting and enhancing the riparian ecosystem, fisheries habitat and the scenic resource while allowing regulated recreational use. Harris Park is an entrance to the ACEC for hikers, horseback riders, motorcyclists and hunters who use public lands (Forest Service or BLM lands) but has no enforcement authority.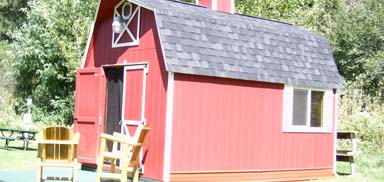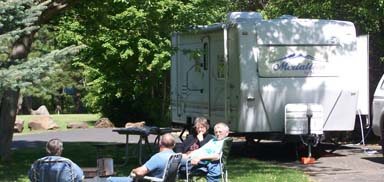 Park Policies
(Limited description, additional policies posted at Park)

Gene Palmer Campground Amenities And Information

The Gene Palmer Campground is a fee use area designated for overnight camping only. The Miller Day Use area is for picnicking only and is open from 8 am and closes at dusk. No camping allowed in the day use area.

Dogs must be on a leash in campground or day use area.
No horses or livestock allowed in park
Campfires are allowed in established fire rings/fireplaces only.
Fireworks prohibited at all times on park property
Firearms may not be discharged within park property
Parking is not permitted on the Gene Palmer campground "loop"
One RV and one vehicle are permitted in campsites 1-38
Camping is limited to a 14 day maximum
Check-in starts at 1PM daily.
Checkout is at 11AM daily.
Tobacco use of any kind is prohibited on county property.
There are two parking areas designated for overflow parking.

The campground has 38 campsites, each with water, electricity, picnic table and fire/grill ring. Two sites are handicap accessible. All sites have ample room for an RV and one car. Some sites will accommodate larger RV's. Of the total campsites, nine are located along the river. The upper campground is a large mowed area with sites side by side, without landscaping.

Other amenities and facilities in the campground area include public restrooms for men and women that meet ADA requirements, a large covered shelter, a sand filled volleyball court, and a campfire wood storage shed. The large shelter (Widner Cove) has electricity, lights, hot/cold water, refrigerator, electric 4 burner stove with oven, gas barbecue, picnic tables and a fireplace. It is rented for family reunions, group meeting, weddings etc.

Cabin Rules

No pets in cabin
No food in cabin
No electrical appliances
No cooking in cabin
Anything damaged you are responsible for.
Please clean up after yourselves.
If you have questions please ask.
Check out is by 11AM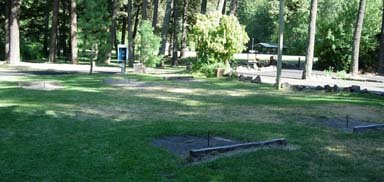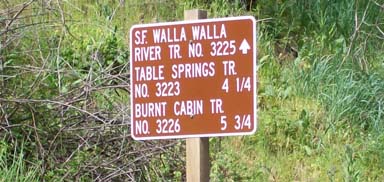 Miller Day Use Area Information And Amenities

Hiking Trail

The day use area of the park is free for public use. No camping is allowed and the area closes at dusk. The large shaded area next to river for picnicking has tables, and raised grills for barbecuing. The small shelter has tables, a fireplace and barbecue grill. There is a handicap parking and a paved road leading to a ADA toilet, and the covered river viewing platform for handicap individuals. A pay telephone sits on a concrete pad and is ADA compliant.

The playground and horseshoe pits are adjacent to the small picnic shelter. A prefabricated children's play structure in the playground area was installed in 1998. The playground, volleyball court, horseshoe pits and play equipment is common ground for day users and campers.

The park features an extensive rustic rugged hiking trail recommended for experienced hikers located on the south side of the park. This hiking experience is an enjoyable way to view the various parts of nature in the valley. The trail entrance is located near the entrance to Harris Park on the north side of the road. It is recommended that children be accompanied by an adult as the trail is narrow in places and primitive in location. (Always be careful and use at your own risk.)
---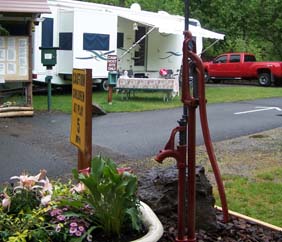 $30 a night for RV sites 30 amp service.
$40 a night for Cabins.
6 people max per camping site.
All reservations for the shelters are to be made over the phone.
A small shelter is $30 a day max 30 people
A large shelter $75 a day max 50 people
Events expecting 100 people or more will rent both shelters at $150 a day. for every 50 people after that it is $75 extra and will include extra restroom facility
Camping is limited to 14 consecutive days max

There must be a 10 day break between a 14 day stay

If someone is not in their reserved site by the second day at check out time their site will be released for someone else to use unless they have already paid for the whole reserved time
No free bundle of wood with reservation, $5 a bundle
No fees for day use area.
Thinking about being a camp host? Please contact Harris Park at 541-938-5330 or send an email
Click Here to use our online reservation system or call 541-938-5330 Monday through Friday 8AM - 5PM
After hours and weekends call 541-938-4092